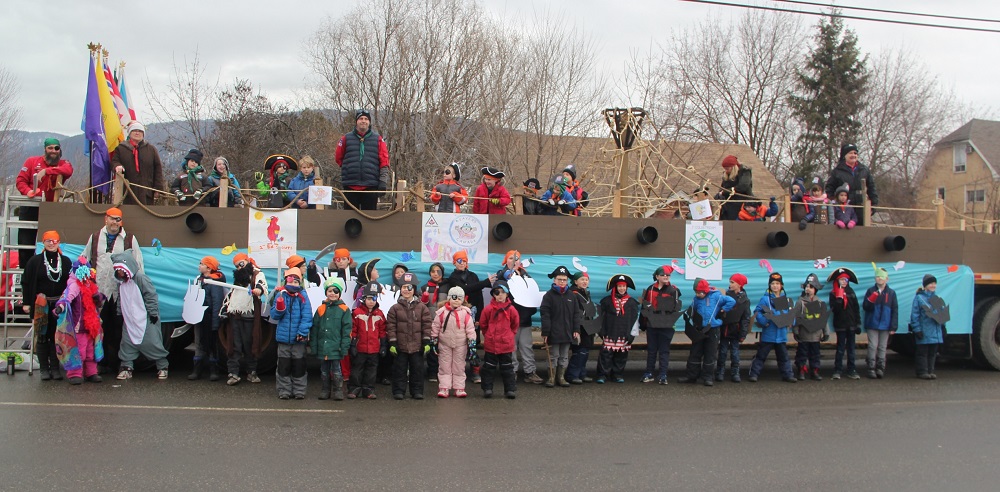 Tolko's Armstrong Plywood Division recently gave all of Scout Groups in the North Okanagan a donation of 7 sheets of 3/8" plywood. The plywood was used to build a float for the Vernon Winter Carnival Parade, held Feb. 2 in Vernon.
Doug Kitching, the 1st BX Scout Group Commissioner says, "On behalf of my organization, I'd like to thank Tolko for donating the plywood and for helping make this float possible!"
According to Doug, their groups in the North Okanagan start planning the float in the latter part of the year leading up to the Carnival. The youth are consulted in the design of the float. The leaders break down the float design into different pieces, which is then tackled by small groups of kids. For example, their youngest section, Beaver Scouts (ages 5-8) worked on a simple costume for the parade – this year it was a pirate hat. The Cub Scouts (ages 8-11) and Scouts (ages 11-14) worked putting together the various sections of the float.
Doug adds that all this work is supervised by adult Scout leaders. Their oldest youth in Venture Scouts (ages 14-17) and Rover Scouts (ages 18-26) come together the morning of the parade and assemble the float on one of Rocky Mountain Transport's flatbed trucks.
Doug says, "This event helps teach youth how to work together in larger and small groups. This project was made possible by donations from the business community, such as Tolko. A huge 'thank you' to Tolko for helping support these youth activities in the Vernon area."