Meadow Lake, Saskatchewan – Twenty Tolko Employees shaved heads, facial hair and eyebrows in a fundraiser to support a co-worker and a co-worker's spouse who are both taking medical treatment.
Tolko employee and fundraising organizer Brian Letkemann got the idea from the husband of an employee taking treatment, who shaved his head in support of his spouse. Brian's initial expectation was that the event would raise between $500 to $600 to help alleviate some of the costs incurred for these two families.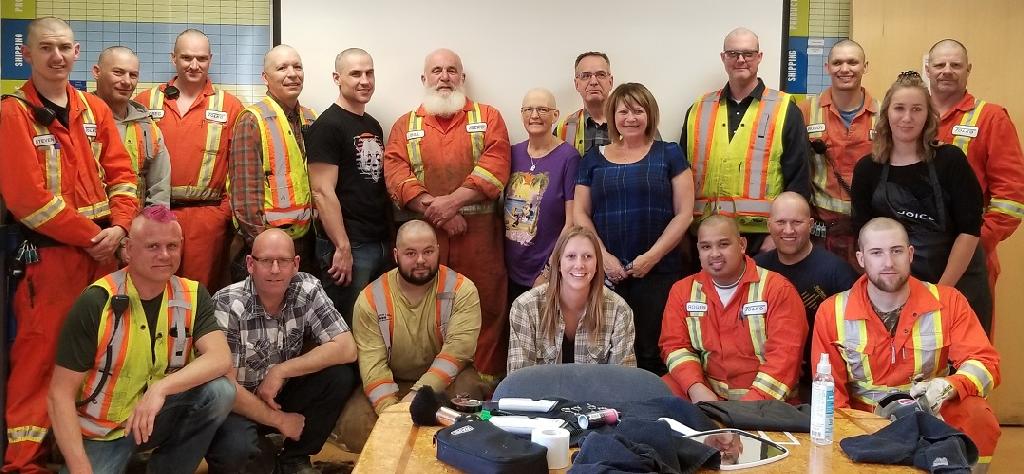 "I haven't organized a fundraiser before and it's overwhelming to see people that work here – including contractors – showing support for each other. It's not just the money raised," explains Brian. "It's about those who showed physical support and those who just kept coming and pushing and promoting the fundraiser. People really care."
The day before Shave Day, funds were at $2,200. By the next morning, many employees and contractors that work on site – including High Octane, Whirlwind Services, LJ Contracting, Danbec, and Beg 4 – had bumped that amount up over $8,000.
With safety a primary focus at Tolko, Brian approached hair stylist Samantha Hadland, the owner of Studio 26 hair salon to take part. Samantha generously volunteered her afternoon by setting up shop in one of Tolko's conference rooms where everyone was expertly-and safely-shaved.
Employees were a little nervous prior to getting shaved, but they rallied and showed great community spirit, understanding that we have a choice between what hair we keep and what we lose. Many don't.