Orange Shirt Society and Tolko present this year's winning design
FOR IMMEDIATE RELEASE
Orange Shirt Society and Tolko Industries Ltd. are proud to announce this year's winner of the official 2022 Orange Shirt Day design.
Grade 11 student Geraldine Catalbas' design is in remembrance of children who lost their lives in residential schools, recognizing the impact of their deaths, the survivors' triumph through the actions of the past, and making up for the mistakes made. Geraldine's design depicts shoes that represent the children who died in residential schools. The shoelaces coming off into an eagle represents their freedom up in the heavens and their fight through difficult times.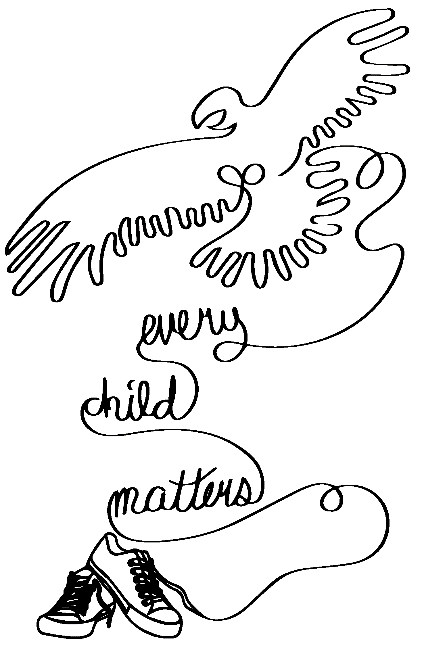 Congratulations Geraldine! Geraldine is from Ponoka, Alberta and her design was chosen from entries submitted from across Canada. Geraldine will receive $200.00 prize and will travel to meet Phyllis Webstad on Orange Shirt Day 2022, providing that travel is deemed safe because of COVID restrictions.
About the contest
Annually, Indigenous and non-Indigenous children kindergarten through grade 12 across Canada can submit a design for the official Orange Shirt Day Contest. We encourage all youth to participate in this conversation by highlighting what the design means to them for consideration by our Board of Directors. Our sponsor Tolko Industries Ltd. provides a cash prize to the winner and the winner is also flown to meet Phyllis Webstad on Orange Shirt Day to continue the conversation regarding reconciliation and to recognize the winner.
Copyright
The Society will be copyrighting designs owned by the Society going forward, which does include this 2022 Design. Should you wish to use this design in anyway, please e-mail Melissa Lundy at programming@orangeshirtday.org.
Premier shirt partners
Melissa Lundy, Program Manager for the Orange Shirt Society stated, "We want Orange Shirt Day to be about the cause – the tragedy of residential schools and the ongoing intergenerational trauma. It is more than wearing an orange shirt and we also encourage Canadians to think about where they purchase their shirt or merchandise before they purchase. We encourage you to ask where the money is going, how much is being donated and how much is profited from each item sold."
It was with this in mind that the Orange Shirt Society has partnered with Premier Shirt Partners in 2022. More information on these partners can be found on the Society's social media and on their website www.orangeshirtday.org.
– 30 –
About Orange Shirt Society
The Society is a non-profit organization with its home in Williams Lake, BC where Orange Shirt Day began in 2013. The purposes of our society are to support residential school Reconciliation; to create awareness of the individual, family, and community inter-generational impacts of residential schools through Orange Shirt Society activities; and to create awareness of the concept of "Every Child Matters."
About Tolko
Tolko is a leading manufacturer of a wide range of forest products for customers around the world, including lumber, plywood and veneer-oriented strand board co-products, biomass power, and a growing number of specialty wood products. For over 65 years, our family-owned company has delivered reliability, flexibility, efficiency, and quality. We hold third-party certification on the forestlands we sustainably manage in British Columbia, Alberta, and Saskatchewan, and we play an active role in the communities where our employees live and work.
For more information, please contact:
Orange Shirt Society:
Laio Hyrcha, Executive Director
250-305-7516
executivedirector@orangeshirtday.org
Tolko:
Chris Downey, Communications Advisor
250-306-0929
Chris.Downey@tolko.com