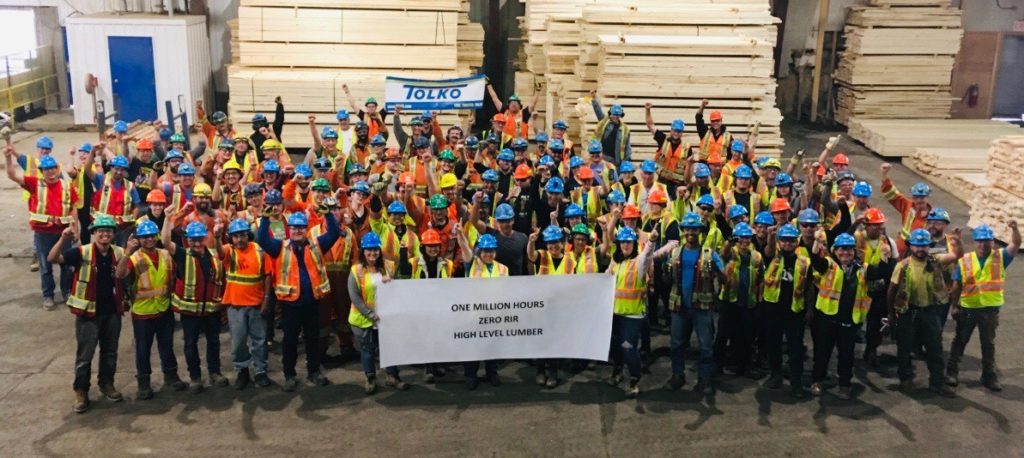 We're excited to announce that at approximately 3:30 pm MT on June 25, 2019, our High Level team officially became the 1st division at Tolko to reach 1 million hours without a single recordable incident!
This achievement is a testament to the hard work and determination of our employees in High Level for their continued dedication and commitment to workplace safety and for living Tolko's safety values each and every day. High Level Division has had several major successes over the past year: reaching 250,000 hours zero RIR in May 2018, surpassing 500,000 hours zero RIR in September 2018, followed by another safety milestone of 750,000 hours zero RIR in January 2019.
Brad Thorlakson, President and CEO says that High Level Division is leading the organization in safety and building our Culture to Care.
"One million hours without an incident is leading for Tolko and leading for Alberta," says Brad. "We are very proud of all our employees and the dedication they have. At the end of the day, there is no job at Tolko that is worth getting hurt for and we believe that a successful organization is based on a solid foundation of safety".
Jim Baskerville, VP SBB says that High Level has done a fantastic job of continuing to set the bar for improvement "very high".
"This is a great example of what can be accomplished by a focused effort of people working together – well done by all in High Level," says Jim.
Troy Connolly, VP Solid Wood knows that reaching 1 million hours is a landmark achievement even in the best of times. Having spent four years in High Level as Area Manager, Troy is well versed with the challenges the team faces in their day-to-day operations.
"When you take into consideration the recent disruptions, such as wildfires and evacuation notices you can only reflect on the level of commitment and teamwork it took to reach this milestone," says Troy. "This achievement exemplifies the commitment of the team to Tolko's number one value – the safety of our employees. I'd like to take this opportunity to congratulate each and every employee at our High Level division for a job well done!"
Dave Gillespie, Area Manager, Operational Services & Alberta Lumber was the plant manager of High Level Division from 2015–2018. He reaffirms that High Level employees have proven to everyone that the Journey to Zero is achievable.
"I would like to congratulate every employee of High Level Lumber Division for achieving the 1 million hour RIR safety milestone. This is an outstanding achievement and is a result of highly engaged and committed individuals, focused on safe production, personal safety, and the safety of their team mates."
High Level Division's Plant Manager, Gary Ross is extremely proud of his team and the growing culture of caring that is helping to define their site.
"Congratulations to our entire High Level team in surpassing this incredible milestone," says Gary. "This achievement is only met through the collective efforts of every single employee on-site working towards a common safety value. It is a privilege to be a part of this journey to zero and to work with so many talented, caring individuals. Way to go team!"