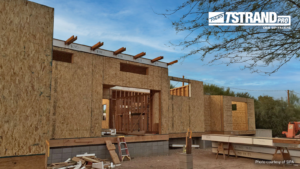 Tolko has SIP Facers to cover you from the floor to the roof!
The APA has officially certified T-STRAND Pro OSB SIP Facers to the PR-N614 standard in 19/32" and 23/32" thicknesses. This means that in addition to tilted roof and wall applications where 7/16" thickness is required, our SIP Facers are now certified by the APA for flat roof and flooring applications too.
View the brochure at: Tolko T-STRAND Pro OSB SIP Facers Brochure
Panel Matching Made Easy
Laminating structural insulated panels (SIPs) can feel like you are putting together a puzzle, with OSB boards that never quite seem to fit. To help you get the quality you want, and avoid the stress of finding just the right piece for your project, we offer our dimensionally stable and consistently straight OSB SIP Facers.
Build Better with T-STRAND
Our SIP Facers offer increased moisture resistance with our Blue Edge Seal, which protects against swelling. To ensure our product arrives at your door in the same condition it left our mill, we ship our SIP Facers in a woven-poly bag for extra protection against the elements.
Tested to the Highest Standards
Tested to APA's standards PS2, PR-N610 and PR-N614, these unsanded panels are compatible for laminating with insulating polyurethane (PUR), polyisocyanurate (PIR), and polystyrene (EPS) foam cores.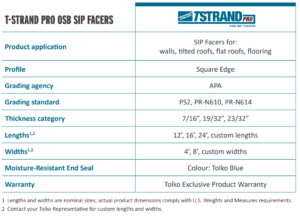 Warranty
T-STRAND Pro OSB SIP Facer panels are backed by a limited 25-year warranty against delamination. Full warranty details available in our Website Resources.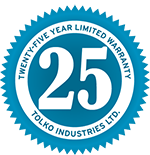 Contact Us
Contact your Tolko Representative today to ask about T-STRAND Pro OSB SIP Facers panels.