Each year, we recognize 12 exceptional employees across the company for consistently demonstrating Tolko's Values of Safety, Respect, Progressiveness, Integrity, Open Communication, and Profit in their daily life and work. These employees represent various areas of Tolko, from operations to maintenance, from Woodlands to our head office, from supervisors to technicians and equipment operators. What they all have in common is a commitment to their co-workers and Tolko's Values.
Congratulations to these well-deserving employees for being the recipients of our 2022 Tolko's Values Award:
•  Terrie Brown, Safety & Asset Protection Advisor, Athabasca Division
•  John Bruno, Finishing End Operator/Sr. First Aid Attendant, Heffley Creek Division
•  Randy Clarke, DLI Operator, Lavington Division
•  Allen Ford, Maintenance Supervisor, High Level Division
•  Ray Friesen, Woodlands Operations Supervisor, (Woodlands), Woodlands/Eagle Rock
•  Carmine Gasparini, Heavy Duty Mechanic, Soda Creek Division
•  Clinton Greenlay, Millwright Chargehand, Armstrong Lumber Division
•  Corey Holm, Chargehand Graveyard Shift Welder, Lakeview Division
•  Dustin Jones, Control Room Technician, High Prairie Division
•  Joe Perkovic, Plywood Supervisor (Armstrong Plywood), Armstrong Plywood/Cogen/White Valley/Lake Country
•  Alex Vidal, Meadow Lake Electrical, Meadow Lake Division
•  Ryan Warner, Service Desk Technician, Vernon Office
Today we're featuring six of our winners: Randy, Terrie, Alex, Clinton, Ray, and John. Next week we'll feature another six: Dustin, Joe, Corey, Carmine, Allen, & Ryan!
Randy Clarke, DLI Operator, Lavington Division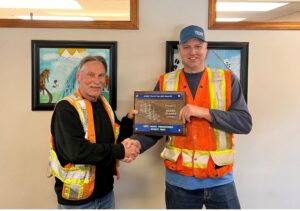 Randy is a 40+ year employee who has always gone "above and beyond", according to his team at Lavington. He leads by example and always demonstrates the safe and right way to do things. Well respected by both the management team and his co-workers, Randy was doing things safely long before safety became a hot topic in the industry. In fact, Randy has been incident-free his entire career, a remarkable achievement. With his positive, "can-do" attitude, he is eager to share his knowledge and passion for safety with Tolko's younger generations.
"Working for Tolko gave me the opportunity to raise my family here, and I've worked with some great people and mentors over the years. I think Tolko's Value of Safety is extremely important, and during my career, one of the biggest positive changes I've seen is the attention to safety and attitudes towards being safe at home and at work."
Terrie Brown, Safety and Asset Protection Advisor (SAPA), Athabasca Division
Terrie, who has been with Tolko since 2019, leads Athabasca Division's safety program. She is known by her peers as a dedicated person who demonstrates respect, leads by example, and consistently approaches demanding situations with a sense of calm and professionalism.
"I really enjoy working at Tolko Athabasca, and I'm excited to be a part of the team," says Terrie. "The Values of Safety, Respect, acting with Integrity, and striving for Open Communication always apply in my home and work-life. We make a conscious choice on how we approach our day, how we demonstrate respect, and act with integrity for yourself and for those we encounter."
Alexander Vidal, Meadow Lake Division, 4th Year Electrical Apprentice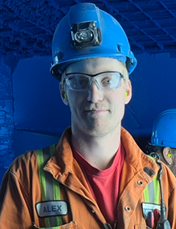 Alex joined Tolko's Meadow Lake team right after graduating High School in 2017 as a part of Meadow Lake Division's Youth Recruitment program. From the start, Alex has demonstrated a strong work ethic and the company Values: most notably, Open Communication, Respect, and Safety. His positive attitude, ability, and willingness to learn earned him an electrical apprenticeship in 2019, and he is on track to complete his Journeyperson Certification later this year.
"It's important for me to live the Tolko Values because it can create an atmosphere for success," says Alex, a 4th year Electrical Apprentice. "Working safely allows everyone to get their work done and go home to their families the same way they came in. Respect creates a positive environment to learn and grow within the company. Progressiveness will always be needed in an environment where you want to be at the top of the competition to stay in business. Integrity keeps the company focused on its goals. Open Communication allows work to be completed fluently as all parties understand what needs to be done. And profit keeps the employees working and the company operating. All the Tolko Values are important not just at work, they can be applied to all aspects in life."
Clinton Greenlay, Millwright Chargehand, Armstrong Lumber Division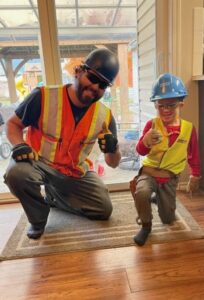 Clinton, a Certified Millwright who has been with Tolko's Armstrong Division since 2014, has enjoyed learning and challenging himself in all of his roles, especially when he stepped into his current role of Chargehand at the mill last year.
"Growing up in a small town in northern BC on and around a lot of ranch land, instilled values in me at a very young age. Learning you get what you give, and you work for what you have. Be kind, polite, and don't forget where you came from," says Clinton. "I feel that Tolko's Values and my own closely align, and I try to practice them every day. I hope to raise my children with Integrity and Respect. I'm committed to safety at work and at home, since looking after yourself and others doesn't stop at the work site. I am grateful for receiving this award and honoured that my team chose me to receive it."
Ray Friesen, Woodlands Operations Supervisor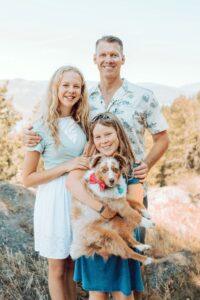 Ray has been with Tolko for 17 years working as a Log Trader in the Cariboo and Southern Interior Woodlands divisions. He is a natural leader with a keen eye for detail. Last year he was awarded Tolko's "Good Safety Catch" prize due to his outstanding safety observations and hazard assessments during the latter half of 2022. He's also an excellent communicator who doesn't shy away from having "difficult conversations" with others when he sees unsafe or disrespectful behaviour. A well-respected member of his Woodlands team, Ray is known for treating everyone with Respect, whether they're colleagues, stakeholders, Indigenous partners, or customers.
"My personal values align well with the Tolko Values in that they are easily a part of my everyday life," says Ray. "My two daughters are my #1 priority, and I believe the best way to instill strong values in them is to demonstrate these values to them and make them a part of their lives."
John Bruno, Finishing End Operator/Senior First Aid Attendant, Heffley Creek Division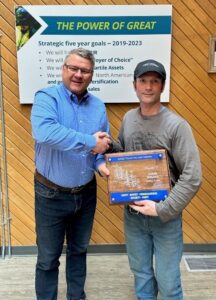 John has consistently demonstrated Tolko's Values during his 18 years with the company. He is known as "the go-to guy" at Heffley Creek Division, and Plant Manager Phil Bean says that John is "proficient at many jobs at the plant and on more than one occasion has stepped up to help the team out." As an experienced First Aid Attendant, he can be relied on to be professional and empathetic under stressful situations.
John says, "I take safety seriously, and I'm proud to say that I have a zero-incident record. Tolko's Values are important to me because when I was growing up, my parents raised us with similar values."
Check out our other six Values Award winners: Dustin, Joe, Corey, Carmine, Allen, and Ryan.