We're proud to introduce you to another group of three award-winning employees who live Tolko's Values every day!
Earlier this year, we announced twelve employees who were given Tolko's Values Award for consistently demonstrating Tolko's Values of Safety, Respect, Progressiveness, Integrity, Open Communication, and Profit in 2021. Once again, we're honoured to highlight another group of three well-deserving award recipients for living Tolko's Values: Harvey Douglas from Lavington Division, Jenna Swanson from Cariboo Woodlands, and Darren Brad from Meadow Lake Division.
Harvey Douglas, Hi-Lift Operator/Leadhand, Lavington Division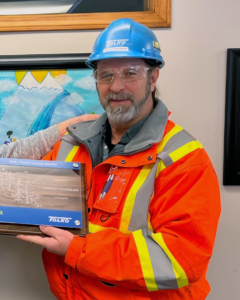 During his 43-year career with Tolko, Harvey has had the opportunity to work in various departments where he says he was fortunate enough to be mentored by many influential co-workers who have taught him to be a successful, safe, and productive employee.
"On a daily basis I lead by example sharing many of the things that I have learned over the years, whether it be suggestions on how to properly perform a task to reviewing the safety requirements to complete a task," says Harvey.
He adds that the Tolko Values are easy to follow if you live your life by the same set of standards.
"Following these high standards has provided me with integrity and the belief that treating fellow employees with respect and honesty is essential for building team trust and morale", says Harvey. "Tolko's Values are important because they are guidelines that at the end of the day provide for the safety and wellbeing of our fellow employees and their families."
Jenna Swanson, RPF, Cariboo Woodlands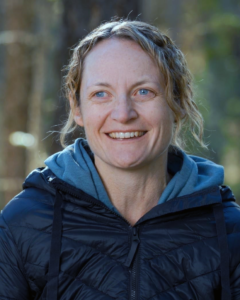 Jenna's curiosity to learn new things and a love of nature are what drew her towards a career in forestry. She says she does her best to be respectful of all those she encounters and act with integrity both in her personal and professional life. By maintaining these principles, she says, the rest of the Tolko Values are a natural outcome.
"I feel that the best life comes from genuine curiosity, kindness and effort", says Jenna. "Loving both work and play is important since that is where we spend most of our time."
A mother of two, Jenna adds that having two working parents is the reality for most families today and that it is important for kids to see their parents lead by example and find a healthy work life balance.
Jenna says, "I hope that by demonstrating Tolko's Values every day I will set my kids up for a happy and successful future."
Darren Brad, Production Technician, Meadow Lake Division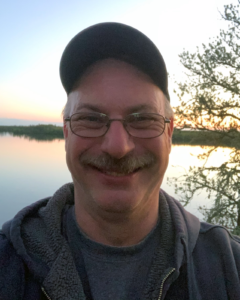 Darren, who works at Tolko's Meadow Lake OSB Division believes that coming to work upbeat, respectful, and openly communicative sets the tone for the entire day and everyone you work with.
"Something as simple as saying 'good morning' or 'how is your day going' and providing positive encouragement to others brightens everyone's day," says Darren. He adds that it boosts productivity, morale, and makes work a better place to be. "It doesn't take much to change people's day for the better," says Darren.
"I would like to thank everyone that picked me for the award and am deeply humbled by everyone who picked me. I would also like to thank senior management for giving employees this award and everything extra they have given us in the last few years. It's greatly appreciated."
Congratulations Harvey, Jenna, and Darren!
Read more about our other 2021 winners here:
2021 Values Award – Published June 2022 – Dave MacDonald, Mark Straza, & Brandon Fandrey
2021 Values Award – Published February 2022 – Doug Felhauer, Brett VanderHoek, & Jerry Madrid