At Tolko, our core values are a foundation for a strong and vibrant workforce that serves to improve the productivity and morale of the whole company. Employees who adopt these values as their own help create a healthy, productive, and profitable work environment. Earlier this year, twelve employees were awarded Tolko's Values Award for consistently demonstrating Tolko's values of Safety, Respect, Progressiveness, Integrity, Open Communication, and Profit in 2020. Today we're pleased to share with you the stories of three employees who consistently demonstrate Tolko's values: Andy Hatch, Chris Rende, and Travis Romanchuk.
Andy Hatch, Planer QC Technician, High Level Division
Andy says that he's honoured to receive this award and that he feels fortunate to have the opportunity to work in Quality Control in High Level while being able to live nearby and take care of his family's farm, which is near and dear to his heart.
"I come to work every day to try to do the best I can to make this a great place to work," says Andy. "I try to treat everyone the way I want to be treated, and I enjoy sharing my knowledge and experience with my co-workers to build them up so that they can succeed."
He believes that a respectful work environment depends on effective two-way communication and being open to learning from others, regardless of their position or how long they've been with Tolko.
Andy says, "I always try to gain more knowledge and figure out ways to improve processes and how things work. Over the last few years, I have had the opportunity to expand my view of the business by covering as a shift foreman and working in the shipping department. What a great learning experience that was!"
On the personal side of things, Andy and his wife run the family farm where he grew up. He says that they're always learning new skills in order to be more self-sufficient, and this knowledge has given him a great deal of confidence. He adds that Tolko's values are quite similar to many of the values he grew up with and learned from his parents.
"Living on the farm you quickly learn that you need to build strong relationships with the people in your community and be there for your neighbour when they need help," says Andy. "The same goes for the workplace – be there for each other and look out for one another. I appreciate how fortunate my family is that we live in High Level and that I work at a great place like Tolko. I am lucky enough to follow my dream and if others incorporate the same values then they are bound to succeed as well."
Chris Rende, Gas Fitter/Lead Hand, Heffley Creek Division
Chris, who has been with Tolko for almost nine years, says that integrating Tolko's values into his workplace has been easy since they align closely with his own values. In particular, he is passionate about safety and believes that integrity and open communication are critical to a successful and profitable business.
"Being a maintenance chargehand gives me the opportunity to work with a wide variety of people at the mill, and this allows me to have meaningful and open conversations about safety, reliability, and efficiency," says Chris.
Chris is proud of his team at Heffley Creek for their professionalism and believes that everyone at the mill is doing a great job incorporating Tolko's values. He is also acutely aware of the added stresses of trying to work through a pandemic while maintaining a safe and productive workplace.
"To operate through a pandemic as safely and successfully as we are just proves how people can come together to achieve operational excellence," says Chris. "I feel that by following Tolko's values every day we are given a solid blueprint for creating a workplace where everyone feels safe, valued, and respected. Knowing this makes me very proud to work at Tolko."
Travis Romanchuk, Harvesting Superintendent, Northwest Regional Woodlands, High Prairie-Athabasca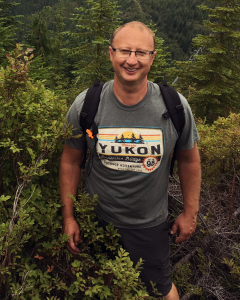 Travis is an avid outdoorsman who loves experiencing the sheer variety that our forests have to offer. He is also passionate about  demonstrating integrity, open communication, and progressiveness every day.
"I am humbled by being awarded the 2020 Values Award for Woodlands & Eagle Rock Division," says Travis. "I am proud to be part of a team of great people who make significant contributions that help move Tolko's business forward."
He adds that his time with Tolko has allowed him to develop and grow not only as an employee, but also as a person. Being awarded the Tolko Values Award has given him an opportunity to reflect on his values and that of the company.
"For me, the Tolko values are closely tied to my own values and have been an instrumental part of my professional and personal growth," he explains. "If all employees demonstrate Tolko's values at work and at home, I believe that this will result in a workforce that has the strengths to accomplish anything and will undoubtedly contribute to long-term personal and professional success."
Congratulations Andy, Chris, and Travis for consistently reflecting Tolko's values!
Our other 2020 Values Award winners: 
Brandon Francks, Jim Mork, and Ryan Langley
Terry Head, Leslie Joles & Bradley Wilkinson